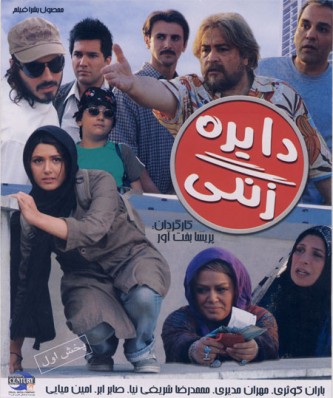 This week I finally got a chance to watch Dayere Zangi. It's written by Oscar winner Asghar Farhadi and directed by his wife, Parisa Bakhtavar. It's a bit

khar

to khar

, as I explained in the word of the day, but I still greatly enjoy it. After wrecking her father's car, Shirin has to come up with 300,000 tomans for the repairs. She befriends Mohammed, who is in the business of selling bootleg movies and installing satellite dishes, which are illegal in Iran. Mohammad goes to an apartment complex in uptown Tehran with the job of installing/fixing the satellite dishes of the residents there. Throughout the movie, we get a glimpse into the daily lives of the different residents in this building and how their stories are intertwined.
I would say that one needs to be somewhat familiar with the culture to fully understand this movie. I also think it's worth watching more than once to completely grasp the stories that are woven.
If you speak Persian, you can watch the video

here

.
For non-Persian speakers, unfortunately I did not find the movie with subtitles online, but it is available on Netflix.
Hope you enjoy!
♥
Pontia